Headstones
Abbey > CHURCH
The marble stone which is near the main entrance of the Church
(
to the left of the entrance
)
remember the Dedication to the divine Worship of our church.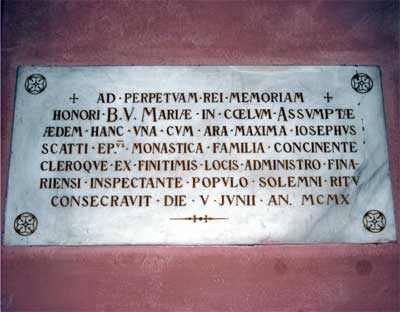 +
To the perpetual memory of the event
+
On 5 June, in the year 1910 the Bishop Giuseppe Scatti
with a solemn rite, consecrated together with the high altar
this temple
in honor of the Blessed Virgin Mary Assumed into Heaven,
between the chants of the monks and in the presence of the clergy and of the people
of Finale and the bordering areas.
The marble plaque that is near the main entrance to the church (on the right as you enter)
recalls the Crowning of the Icon of the Madonna di Pia.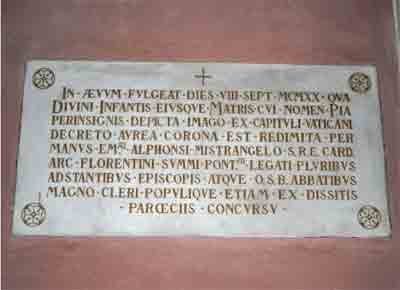 Translation

Shine over time the eighth day of September 1920, in which the most distinguished image depicted of the Divine Infante with his Mother Pia was, by decree of the Vatican Chapter, surrounded by a golden crown, from the hands of the Most Eminent Cardinal of Santa Romana Church Alfonso Mistrangelo, archbishop of Florence, Legate of the Supreme Pontiff, in the presence of several Bishops and Benedictine Abbots, with a great participation of Clergy and people, also coming from distant parishes.